Melissa Dabbs, Front Office Manager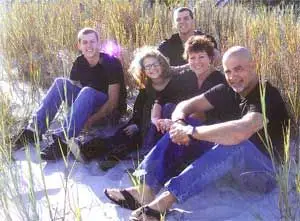 Melissa Dabbs, Front Office Manager at O'Neill Chiropractic and her Family
Melissa Dabbs is our front office manager. Melissa comes to us with a wide variety of life experiences. She has worked for an independent insurance broker, for a credit union as a teller and loan officer. Most recently, she was with Cracker Barrel Restaurant as a server, which explains her strong customer service attitude and pleasing personality!
Melissa is happily married to her wonderful husband Brett Dabbs, a local landscaping contractor (who brings her coffee each morning). Brett's company, S & S Lawn Care takes care of the grounds here at O'Neill Chiropractic. She has 3 children, Brett Jr, Jake, and her youngest Katie, who goes to Coastal Carolina University, where she is studying to be a teacher. Melissa is active in her church and community, and already knows many of our patients because of her numerous local involvements.
Melissa comes to us having already been a chiropractic patient for almost a decade, and has also been a devotee of Standard Process Whole Food Nutritional Supplements that we have available here in our office. She is very knowledgeable about Standard Process in particular and nutrition in general, having taken an active interest in the nutrition of herself and her family for some time. She will be a valuable source of information for many of your questions regarding those topics.
Melissa says, "I'm very happy to be here at O'Neill Chiropractic! It has been such a pleasure to get to know all of our wonderful patients, and to be part of helping so many people in our community improve their health. This is really a fun place to work; we smile and laugh every day. Our practice members really enjoy their visits!" We believe that the healing process starts with the first phone call or personal contact with our office. Melissa's smiling face and friendly voice will be the first you see and hear, so we know we're off to a good start! She has a big and kind heart, and keeps Dr. O'Neill organized and on task, as much as that is possible!
She also enjoys Dr. O'Neill's singing and zany sense of humor, but don't tell him, it's a secret!! 😊
Welcome Melissa, we're so glad you're here!