Deep Tissue Laser Therapy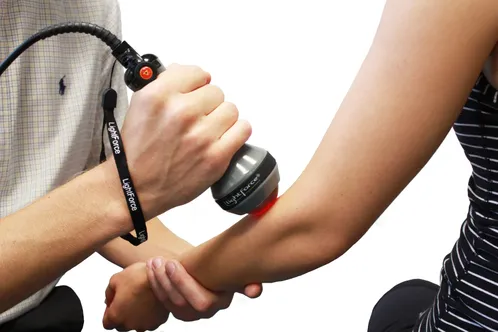 Deep tissue laser therapy, also known as low-level laser therapy or photobiomodulation, is a non-invasive and painless treatment used to speed healing time, reduce inflammation and relieve both chronic and acute pain. Many patients benefit from the use of cold laser therapy in addition to chiropractic adjustments.
What Is a Deep Tissue Laser Therapy?
All visible light is measured in wavelengths. The term "laser" refers to laser or high-intensity LEDs that produce red and near-infrared light, which have long wavelengths (the opposite of ultraviolet, or UV, light which has a short wavelength and causes sunburn—ouch!). These specific longer wavelengths of light are able to penetrate tissue up to 8 centimeters below the skin surface, and work to speed tissue healing at the cellular level.
How Does Deep Tissue Therapy Work?
The light from the laser unit goes through the skin and into the tissue below the surface of the skin. When the light reaches the injured area, cells in that area absorb the light. Then changes occur inside the cell, in the mitochondria, to promote healing and normalize damaged tissue. Lasers accelerate wound healing by building up cellular structures that increase tissue strength. It also reduces inflammation and pain. 80-90% of our patients notice improvement after just one treatment!
What Does Deep Tissue Laser Therapy Feel Like?
Our laser can produce a very comfortable warm sensation, but there is no pain or discomfort when deep tissue laser therapy is applied to an area. You will be comfortable when receiving laser therapy treatment.
How Is Deep Tissue Laser Therapy Done?
Laser therapy can be done in either a sitting or lying down position, depending on the location of your pain or injury and your comfort level sitting or lying in one position for a short period of time.
The laser unit itself is a small handheld device that is placed on and around the area of pain or injury. The LightForce laser has a patented roller applicator, which allows nearly 100% of the laser energy to enter deep into the tissues, where it promotes pain relief and healing. This patented roller ball applicator makes our laser unique and more effective. Because of the strength of our laser, 15 watts, a treatment takes less time than it would with a less powerful laser, letting you get on your way very quickly. The amount of time spent on an area depends on a few factors, including the strength of the laser, the density of the tissue and the size of the area that needs to be treated. Smaller areas require less treatment time than larger areas. Typically, a laser therapy treatment lasts somewhere between 2 and 5 minutes.
Who May Benefit From Deep Tissue Laser Therapy?
Because it is non-invasive, deep tissue laser therapy is a good choice for most people experiencing the following: tennis elbow, plantar fasciitis (heel spurs), frozen shoulder / rotator cuff injuries, hip pain, other tendon, ligament and muscle pain; joint pain, including autoimmune joint conditions like rheumatoid arthritis; nerve pain; and poorly healing wounds such as leg ulcers.

Overall, deep tissue laser therapy is a gentle and effective choice of therapy for most musculoskeletal conditions. If you would like to discuss possible laser therapy for your pain or injury, please let Dr. O'Neill or Dr. Styche know.
Click here to see the athletic teams/organizations using laser therapy